GRAPHIC TAPES (Single and double sided)
Lithographic Tapes - Red, Blue, Clear and Ultra Clear based on Cellulose, PVC and PP. Drafting and Double Sided Tapes.


Thickness (mm)
Adhesion (n/25mm )
Tensile ( n/25mm)
Temperature (max.° C)
Availability
Cellulose Red Lithograpic 1129

0.050
7.5
90
n/a
upon order

Features: Transparent cellulose film incorporating dyed dark red colour. Opaque to UV and short wavelength visible light for masking and stripping up negative photographic films. Must be used within 6 months of purchase.

Cellulose Blue Lithographic 1140

0.045
5.5
90

n/a

upon order

Features: A blue transparent tape which is highly visible but completely transparent to light from exposure lamps.

PVC Red Lithographic 2258

0.057
5
150

n/a

£3.00 per roll
25mmx66m
36 Rolls/Case
> 1 cases
inc. Del & VAT
in stock

£6.00 per roll
50mmx66m
36 Rolls/Case
> 1 cases
inc. Del & VAT
in stock

Features: Similiar to 1129 but based on PVC which makes tape water/humidity proof.
PVC Clear 2290
0.052
6.5
120

n/a

upon order

Features: Transparent but slightly hazy film which defuses light designed for stripping up and mountingfilm postives prior to plate making. Transparent to UV light.

PP Ultra Clear 1250 and 1249
DISCONTINUED
REPLACED WITH 1253

0.045
4.5
115

110

Industrial Tape Features: 1250 is a crystal clear tape with a total thickness of 45μm, consisting of a 28 μm crystal clear Polypropylene BOPP film, coated with a solvent based acrylic adhesive. It is recommended for gift wrapping, sealing and packaging, suitable for a variety of case taping machines, domestic packaging and sealing applications at home, at school or in the office.
The rolls should be stored flat on their cut edges in the original packaging. The product must be protected from dust, heat, moisture, direct sunlight and solvent fumes. Storage temperature between +10℃ and +30℃. Under these conditions, the storage life of the tape in a temperate climate will be at least one year. Surfaces should be clean, dry and free of dust, grease, oil or other contaminants.

Graphic Tape Features: Ultra clear Polypropylene film with non-oozing acrylic adhesive. Suitable for edge mounting film postives. Used in Motion Pictures for splicing film works.Optically clear cinema splicing tape of excellent durability that will not discolour or lose adhesion with age. It is chemically resistant to oils, solvents and grease. Moisture-proof and abrasion resistant. Used for splicing 8mm, Super 8mm, 9.5mm, 16mm, 35mm and 70mm film (VistVision) .Also suitable for a variety of domestic packaging and sealing applications at home, at school or in the office.





* Crystal clear transparency
* Clean removal from photographic films
* Easy unwind.
* Good chemical resistance
* Moisture resistant
* Plasticiser resistant
* UV resistant
* Hight tack
* Service temperature: -15 ℃ to 110 ℃
* Can be used with the Neutaper / Neumade Splicer

Roll width x length / Rolls per case :
12mm x 33m / 144 rolls per case, 12mm x 66m / 72 rolls per case
19mm x 33m / 96 rolls per case, 19mm x 66m / 48 rolls per case
25mm x 33m / 72 rolls per case, 25mm x 66m / 36 rolls per case
48mm x 66m /96 rolls per case, 48mm x 66m /48 rolls per case

Tensile strength : 28 N/cm
Elongation at Break : 58%
Adhesion to Steel : 2 N/cm
Packaging : Flow Pack, Sleeve Pack
Core : 25.4mm plain plastic core, 76 mm cardboard core
Colour : Ultra Clear
Test Method : Afera 4006, 4004,4005,4001
HS Tariff No : 39.19.10.69





Double sided PVC 4405

0.100
14
125

70

upon order

Features: Double sided tape based on PVC film with a clear adhesive for mounting positive and negative films. Free of adhesive deposits.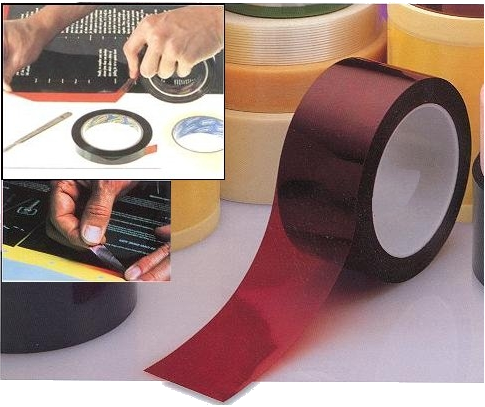 ---

Contact us by phone e-mail for any adhesive tape requirement
Web: www.printernational.co.uk ~ Sitemap ~ Tel: +44 (0)20 8050 8069 ~ E-mail: pr@printernational.co.uk