2527 High Permittivity Elastomeric Self-Amalgamating Tape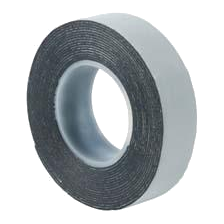 DESCRIPTION:
2527 is a high permittivity, stress control elastomeric tape. Its colour is grey. The product is printed with the words "Caution High K".
APPLICATIONS:

For electrical stress control in all forms of joints and terminations for medium voltage polymeric cables.
PRODUCT BENEFITS:
Exceptionally well balanced electrical and mechanical properties, which show a high degree of stability under conditions of use.
The tape amalgamates rapidly when applied under tension to provide a void-free homogeneous wrapping, without the need for external heat or pressure.
The high permittivity characteristics of the wrapped tape provide effective stress control in all types of joints and terminations for medium voltage polymeric cables.
Can flow in minutes into cracks formed during cable preparation.
Allows more compact joints and terminations.
Particularly beneficial in jointing newly designed medium voltage cables that have reduced insulation thickness.
The joint or termination can be made rapidly by using a tape rather than a stress cone construction to control electrical stress.
The same size coil of tape can be used in joints and terminations over a range of cable sizes and types.
Service temperature -40 °C to +100°.
Supplied in an easy to handle and apply tape form. The product is interleaved with a disposable plastic liner.
TECHNICAL PROPERTIES:
| | | | |
| --- | --- | --- | --- |
| | Unit | Nominal Value | Test Method |
| Thickness | mm | 1 | |
| Tensile Strength | MPa | 2 | BS 903 |
| Elongation at Break | % | 1000 | BS 903 |
| Volume Resistivity | Ohm.m | 5.0 x 10 &sup1&sup1 | ASTM D257 |
| Dielectric Constant | - | 10 | ASTM D150 |
| Dielectric Loss Angle | - | 0.03 | ASTM D150 |
STANDARD PRESENTATION:

Thickness: 1.00 mm
Roll length: 1.6m, 2.5m, 3m, 5m, 6m
Roll width: 19mm, 25mm
Core: 38mm dense plastic
Packaging: Individually shrink-wrapped rolls
RECOMMENDATIONS:
The tape is attacked and softened by petroleum type solvents and oils (including transformer oils and fluids used in oil-impregnated paper). In joints where these oils are used, care should be taken to avoid direct contact between the tape and the oil. These oils may significantly affect the electrical properties of the tape. Scapa 75 can be used to provide a barrier between the oil and this product.
The rolls should be stored flat on their cut edges in the original packaging. The product must be protected from dust, heat, moisture, direct sunlight and solvent fumes. Storage temperature between +10°C and +30°C. Under these conditions, the storage life of the tape in a temperate climate will be at least five years.
---

Contact us by phone e-mail for any adhesive tape requirement
Web: www.printernational.co.uk ~ Sitemap ~ Tel: +44 (0)20 8050 8069 ~ E-mail: pr@printernational.co.uk